About us
We provide creative solutions that gets the attention of our global clients.
Welcome
Catawba Hospital is more than just a hospital; it is a sanctuary. Surrounded by the beautiful mountains and woodlands of southwest Virginia, Catawba is a place of shelter from unhealthy or unnecessary influences. It's a place to gain a better understanding of one's own mental health and to learn techniques and treatments for overcoming challenges.
Catawba Hospital is a family. Each member of the team brings his or her unique skills and experience to the treatment of those with mental illness. Our staff, many with years of experience on this campus, operate with a mutual respect and trust for colleagues, and the patient experience is better for it.
Catawba Hospital is a temporary home. Catawba is an inpatient psychiatric facility with 110 beds that provides comprehensive mental health services including assessment, treatment, and discharge planning. Catawba serves adult patients 18 years and older, with specialized expertise in the treatment of geriatric patients.
Catawba Hospital provides the highest standard of professional care. Individualized treatment is provided through interdisciplinary teams (including psychiatry, nursing, internal medicine, social work, psychology, substance abuse, psychosocial rehabilitation, pharmacy, and dietary). Programs in a newly designed treatment mall emphasize psychiatric rehabilitation, recovery from mental illness, and re-integration into the community. Catawba is a Joint Commission accredited facility, certified by the Center for Medicare and Medicaid Services (CMS).
Catawba Hospital is a place to learn. Catawba serves as a clinical placement site for students from all disciplines and over a dozen colleges, universities, and schools. Our expert staff provide supervision and mentorships to schools and universities regionally and our doctors have multiple academic affiliations and professorships serving as faculty at Virginia Tech Carilion School of Medicine and the Carilion and Lewis-Gale residency programs.
Catawba Hospital is part of a greater network of community partners. Our team serves as a resource in areas such as forensic evaluation and in providing comprehensive mental health services in the least restrictive setting.
Catawba Hospital… serving our community for over 100 years. Here when you need us.
Mission
To support the continuous process of recovery by providing quality psychiatric services to those individuals entrusted to our care.
Vision
EXCELLENCE in
Clinical Service
Consumer Recovery
Corporate Stewardship
Family Satisfaction Survey
Background:

The family Satisfaction Survey was conducted from July 1, 2020 through December 31, 2020. This is a semiannual survey and the next one will consist of input from January 1, 2021 through June 30, 2021.
Survey Form:

The survey form consisted of ten (10) statements and three (3) open ended questions. The survey form instructions asked the respondents to check the answer that best expressed their opinion about services provided and safety over the last six (6) months.
Methodology:
The Social Work Department submitted a Family Satisfaction Survey form with initial documents mailed to the authorized representatives, guardians, and family members of the patients admitted to the hospital.
The Switchboard Operators offer a survey form to each patient visitor and asks them to complete the survey before leaving the hospital.
When the Survey form is given to patient visitors, the Switchboard Operator expresses their appreciation on behalf of the hospital for completing the survey and relates that their input helps us to improve our services.
Statements Found on Survey
1. Hospital staff were responsive to the patient's needs.
2. Hospital staff treated the patient with courtesy and respect.
3. I believe the patient was safe while in the Hospital.
4. I felt comfortable speaking out about the care the patient received while in the hospital.
5. Hospital staff responded to my concerns.
6. I found my visit with the patient to be pleasant and satisfactory.
7. Hospital staff treated me with courtesy and respect.
8. Hospital staff encouraged me to maintain hope about the patient's situation.
9. Overall, I was satisfied with the services of the Hospital
10. I would recommend this Hospital to a family member or friend.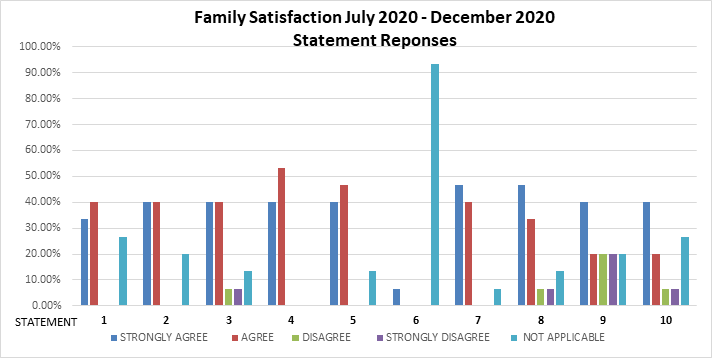 Video About Our Facility