About us
We provide creative solutions that gets the attention of our global clients.
Covid-19 Update
Visitation update 6/8/22 – Limited in person visitation
Please read this statement about the visitation restrictions
For more information on COVID-19 please visit VDH and the CDC.
Welcome
Welcome to the Catawba Hospital Web site. Part of the Commonwealth of Virginia public behavioral health system, Catawba Hospital specializes in serving adults including geriatric individuals who are in need of mental health care.
The first priority of Catawba Hospital is to help patients regain and maintain their highest level of mental and physical functioning. The ultimate goal is for patients to return to community living. We are responsive to the needs and preferences of consumers and their families and are invested in the DBHDS vision of self-determination, empowerment and recovery.
Charles Law, Ph.D., Facility Director.
Mission
To support the continuous process of recovery by providing quality psychiatric services to those individuals entrusted to our care.
Vision
EXCELLENCE in
Clinical Service
Consumer Recovery
Corporate Stewardship
About Our Facility
Catawba Hospital specializes in serving adults who need mental health care. The hospital offers both short-term "acute care" units and dedicated geriatric units. Both private and semi-private rooms are available.
Catawba Hospital is affiliated with the Virginia Tech Carilion School of Medicine, where staff psychiatrists may have faculty appointments and help train psychiatry residents and medical students. A clinical practicum is available for students of various disciplines including nursing, psychology, social work, music therapy, recreation therapy, and food and nutritional services.
Surrounded by natural beauty, Catawba Hospital is located ten miles from the city of Salem and seventeen miles from Roanoke. The hospital is approximately two miles off Route 311 (via Exit 141 from the interstate, I-81). Please see maps and driving directions for more information.
Please feel free to call us at 540-375-4200. We are here to serve you.
Virginia's public mental health system includes 13 facilities in the Department of Behavioral Health and Developmental Services ( DBHDS) and 40 Community Services Boards (CSB). Your local Community Services Board is the gateway to public mental health services and refers individuals to DBHDS facilities when appropriate. The public mental health system serves individuals who have or who are at risk of mental illness, serious emotional disturbance, intellectual disability or substance use disorders.
Family Satisfaction Survey
Background:

The family Satisfaction Survey was conducted from July 1, 2020 through December 31, 2020. This is a semiannual survey and the next one will consist of input from January 1, 2021 through June 30, 2021.
Survey Form:

The survey form consisted of ten (10) statements and three (3) open ended questions. The survey form instructions asked the respondents to check the answer that best expressed their opinion about services provided and safety over the last six (6) months.
Methodology:
The Social Work Department submitted a Family Satisfaction Survey form with initial documents mailed to the authorized representatives, guardians, and family members of the patients admitted to the hospital.
The Switchboard Operators offer a survey form to each patient visitor and asks them to complete the survey before leaving the hospital.
When the Survey form is given to patient visitors, the Switchboard Operator expresses their appreciation on behalf of the hospital for completing the survey and relates that their input helps us to improve our services.
Statements Found on Survey
1. Hospital staff were responsive to the patient's needs.
2. Hospital staff treated the patient with courtesy and respect.
3. I believe the patient was safe while in the Hospital.
4. I felt comfortable speaking out about the care the patient received while in the hospital.
5. Hospital staff responded to my concerns.
6. I found my visit with the patient to be pleasant and satisfactory.
7. Hospital staff treated me with courtesy and respect.
8. Hospital staff encouraged me to maintain hope about the patient's situation.
9. Overall, I was satisfied with the services of the Hospital
10. I would recommend this Hospital to a family member or friend.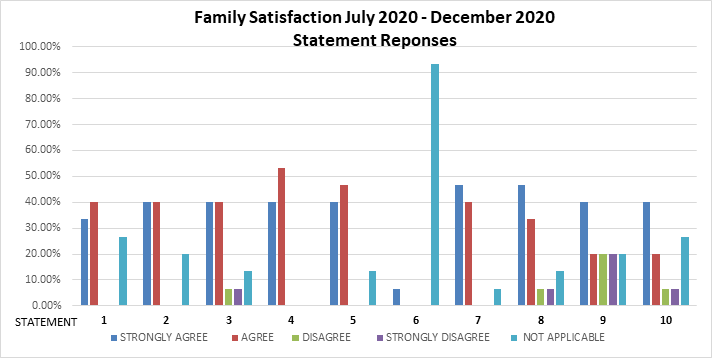 Video About Our Facility