Departmental Objective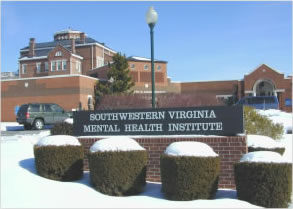 Dr. Cynthia McClaskey is our Facility Director. She heads the Executive Team (ET) who oversees the management and operations of the facility. The ET consists of Bob Williams, Administrative Director; Dr. Jeffrey Gordon, Medical Director; Matt Woodlee, Clinical Services Director; Jim Lundy, Chief Nurse Executive; Heather Hall, Human Resources Director; Merle Obregon, Training Director; Lee Grimes, Quality/Risk Management Director; Shaun May, Director of Physical Plant Services; and Dave McConnell, Acting Director of Public Safety.
Southwestern Virginia Mental Health Institute (SWVMHI) is a 179-bed state psychiatric institute operated by the Department of Behavioral Health and Developmental Services (DBHDS).The Institute serves adult and geriatric individuals.

SWVMHI's campus, located in rural Smyth County consists of over 40 maintained acres of land (approximately 100 acres total) with 24 buildings including its heating plant.
Southwestern Virginia Mental Health Institute is accredited by The Joint Commission and is eligible to receive third-party payments, including Medicare, Medicaid, and Champus.
As part of Virginia's public mental health system, SWVMHI serves adult and geriatric individuals from a number of cities and counties in southwestern Virginia. The SWVMHI catchment area is primarily rural in nature and has a total population of 564,000 people (2010 census figures). The primarily rural nature of the catchment area affects a number and variety of issues that impact the Institute. For example, this region generally has the highest unemployment rate in the state.
In addition, outside the larger towns there is no public transportation, and it is difficult for the individuals to come to community clinics for treatment or rehabilitation. Also of note is the relative scarcity of private providers or private psychiatric hospital beds. Therefore, despite the catchment area, SWVMHI houses individuals from across the Commonwealth.
---
Director/CEO
276-783-1201

---
Executive Assistant Senior to Director
276-783-1201