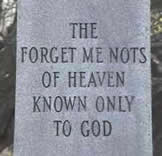 The cemetery at the Southwestern Virginia Mental Health Institute sits high atop a knoll overlooking a panorama of the Appalachian Mountains and the nearby town of Marion. While the cemetery has been in existence for 125 years, it was moved to its present location in the early 1960's due to the construction of Interstate 81. Great care was taken throughout this process to ensure that the remains of the interred were carefully placed and their location in the new cemetery accurately recorded.
This history of respect continues today in the maintenance of the cemetery and its landscape, as well as in the records of those who reside there. The grounds were renovated in 2005 by the Nursing Week Planning Committee who arranged the installation of a concrete walkway and seating area around the memorial obelisk, as well as the placement of concrete benches and flower bulbs. Improvements continued in 2012 with the addition of a pergola, additional seating, and the planting of low-maintenance trees and landscape perennials.
The residents of our cemetery came to SWVMHI from over 80 different cities and counties. Most are from the Commonwealth of Virginia although a few were from the surrounding states. Among those locales, the highest county represented had only 9 percent of the cemetery population. The remainder averaged 6 percent or less. Despite the hospital's location, Smyth County's population representation in the cemetery is only 4 percent of the total.
Over 1200 people are buried in the cemetery; several are Civil War Veterans. All were patients of SWVMHI, and while historically it has been said that "they were those whose families either did not want the remains or could not afford a burial," other factors certainly contributed to these patients remaining at SWVMHI after they passed.
When our facility opened its doors in 1887, transportation was extraordinarily limited in this part of Virginia and remained so for over 40 years, until the State highway commission took over road construction in 1919. Even so, change did not take place overnight, and many years passed before adequate roads and bridges existed to most areas of rural Southwest Virginia. Communications followed a similar pattern, with routine mail and telephone service becoming available only after the transportation system was established.
These facts represent themselves in the population of our cemetery. Not only did over 80 percent of the burials in our cemetery take place prior to 1949, the county with the highest percentage of residents is also the one that would have been the hardest to travel to or from. A family would have to be willing to undertake tremendous hardships to bring their loved ones for medical treatment. In the early days, they would often travel by horseback or wagon across rivers and high mountain ranges to obtain treatment for a family member or relative. If that treatment were unsuccessful, it is unlikely that the family would have received notification of their loss until well after interment in the cemetery had taken place.
The obelisk in the SWVMHI Cemetery is dedicated to the individuals buried there, with an inscription reading "The Forget-me-nots of Heaven known only to God." We take pride in remembering them today and know that their very presence at this facility is, in most cases, proof that they were loved and valued.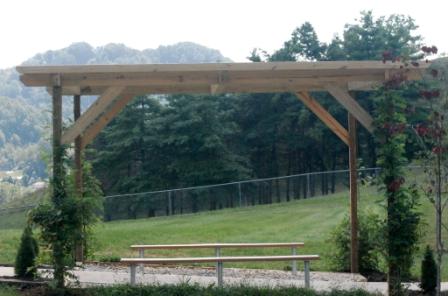 ---
Requests About SWVMHI's Cemetery
Information on all residents of the cemetery at SWVMHI is available Monday through Friday, from 7:00 a.m. until 4:00 p.m. by calling 276-783-1221. An answering machine is available on that line if calls need to be made after hours. Visitors are welcome, although we do ask that you call in advance to arrange an escort. This is a requirement of visitation.