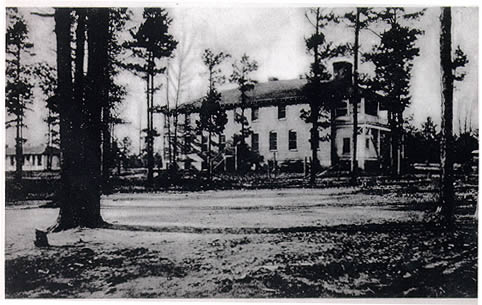 Piedmont Geriatric Hospital was opened April 22, 1918 as a sanatorium for the treatment of tuberculosis in the African-American population and was operated by the Commonwealth of Virginia. The original name of the hospital was Piedmont Sanatorium and it was the first institution in the United Sates built solely for the treatment of African-Americans. Piedmont became a mental health facility in 1967, and in 1977, the facility was renamed Piedmont Geriatric Hospital (PGH).

In 1916, appropriations were obtained to purchase 310 acres of land one mile northeast of the town of Burkeville. A farm manager was employed to oversee the grounds and supervise the clearing of the land. The hospital began with 25 beds, a meager staff and facilities. A small brick administration building was constructed which housed the staff, nurses, kitchen, dining hall, offices, laundry and the Boiler Plant. The first patient building was constructed and named in honor of Agnes D. Randolph who went before the Virginia General Assembly and requested the funds to establish the sanatorium. This building was one story and had one side open and screened. Heavy curtains were installed to be pulled down in bad weather and in winter. Appropriations were increased every two years and more beds added.

By 1926, two pavilions and an infirmary existed making a capacity of 150 beds. All of these original structures were wooden. In 1940, a three story, 120 bed building of steel and concrete was constructed. In 1950, 208 additional beds with all the facilities of a modern hospital were added. Also in 1950, the Nurses Dormitory building was constructed. Two of the original pavilions were razed, but one was maintained to be used as a patient rehabilitation center. A peak patient load of 385 patients was reached in 1955. In 1965, the patient load gradually decreased to 300 and rapidly declined thereafter.

In 1966, the General Assembly passed an act requesting the commissioner to transfer one of the state tuberculosis hospitals to the State Department of Mental Hygiene and Hospitals. This facility was chosen and was renamed Piedmont State Hospital. During its time as a tuberculosis hospital, Piedmont treated and discharged 12,519 patients and operated a two year Nursing School from 1919 to 1960. The Nursing School at Piedmont was the first in the United States to offer a two year course in Tuberculosis Nursing to young African-American women. The old nurses' dormitory has been converted to office and training spaces for PGH staff.

Piedmont Geriatric Hospital is now a 123-bed geropsychiatric hospital operated by the Virginia Department of Behavioral Health and Developmental Services. It is the only Virginia state facility that exclusively treats elderly persons aged 65 and over who are in need of inpatient treatment for mental illness.