Welcome from Regina Johnson –
Chief Nurse Executive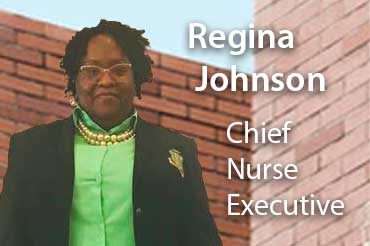 Welcome to "The Nurses' Station" page of our website. Here you can find out everything you need to know about our nursing department and how to become a nurse at PGH.
As chief nurse, I am responsible for executive oversight of nursing services in the hospital. I meet with nursing staff to ensure adequate communication and understanding, so that appropriate problem solving interventions can be applied. I routinely round on the units in the hospital to assess the satisfaction and/or discontent of patients. I collaborate closely with the interdisciplinary team to promote patient and staff engagement.
What type of positions is PGH looking to fill?
We are actively recruiting for all levels of nursing staff – RN's, LPN's and CNA's. We also have vacancies within Nursing Administration, for Assistant Chief Nurse Executive, Unit Coordinator and Shift Supervisors.
What characteristics make a great PGH employee?
A great PGH employee has a positive attitude, a teamwork spirit and is dedicated to delivering quality patient care consistently.
What are some assets of working at PGH?
PGH provides a unique environment for nursing staff to grow and develop their skills. We serve geriatric patients over age 65 who have psychiatric needs. Our employees gain valuable nursing experience that can't be found in many facilities.
Sincerely,

Regina Johnson, CNE
Get to know us.
Together we can do better at PGH! The Chief Nurse Executive along with the nursing department staff describe what it's like to work at this unique gero-psychiatric facility.
How to apply for a job?
Since we are a state facility, you need to apply online at the Jobs.Virginia.Gov website.
Here is the link for PGH jobs – Apply Online Today!