Select a Section for More Information
The COVID-19 situation is rapidly evolving. We encourage providers to regularly monitor information from the Virginia Department of Health (VDH) as well as the Centers for Disease Control and Prevention (CDC).
Please select a topic area to the right for more information and guidance from DBHDS.
Tracking COVID-19 Cases
DBHDS is providing information on positive cases of COVID-19 and deaths of individuals receiving services in licensed DBHDS programs on the Licensed Provider COVID-19 Data Dashboard (11/2/21). These are derived from cases reported by providers in CHRIS and do not reflect official Virginia Department of Health data.
DBHDS is providing updates on positive staff and patient cases at DBHDS facilities on Wednesdays. The frequency of updates will be adjusted as needed. Please note there are approximately 5,500 staff and 1,850 patients among the 12 DBHDS facilities. Click below for the latest update:
COVID-19 Tracker (August 4, 2022)
Announcements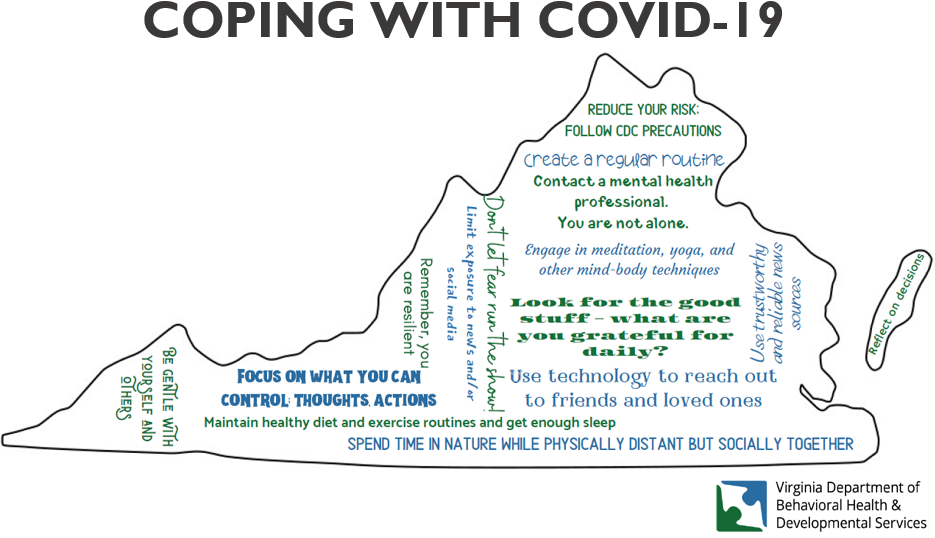 Please click here for a PDF of Coping with COVID-19 in Virginia