Select a Section for More Information
According to the Substance Abuse and Mental Health Services Administration (SAMHSA), traumatic experiences can be dehumanizing, shocking or terrifying, singular or multiple compounding events over time, and often include betrayal of a trusted person or institution and a loss of safety. Trauma impacts one's spirituality and relationships with self, others, communities and environment, often resulting in recurring feelings of shame, guilt, rage, isolation, and disconnection. Racial discrimination damages individuals, hurts health (physical and behavioral) and shortens lives. Research on Adverse Childhood Experiences (ACEs) has evolved to include racism and social determinants, known as the "Pair of Aces", and has been linked to shortened life spans as a result of decreased physical, mental and emotional wellness. 
A trauma-informed approach to care "realizes the widespread impact of trauma and understands potential paths for recovery; recognizes the signs and symptoms of trauma in clients, families, staff, and others involved in the system; and responds by fully integrating knowledge about trauma into policies, procedures, and practices, and seeks to actively resist re-traumatization." The six key principles of a trauma-informed approach include: safety; trustworthiness and transparency; peer support; collaboration and mutuality; empowerment, voice and choice; and cultural, historical and gender issues (Substance Abuse and Mental Health Services Administration [2014]).
Healing is possible. Trauma-informed care is an approach to engaging people with histories of trauma that recognizes the presence of trauma symptoms and acknowledges the role that trauma has played in their lives.
---
A Trauma-Informed Community Network — or TICN — is a diverse group of professionals, partners and community members working collaboratively to create support structures for the successful implementation of trauma-informed care initiatives across the health, human services and education systems.
To learn more about the TICNs in Virginia, click here.
---
The new free online tool, Trauma Informed Care: Perspectives and Resources, created by the Georgetown University National Technical Assistance Center for Children's Mental Health and JBS International, Inc. aims to support state and local decision-makers, administrators, providers, parents, and youth and family advocates to become more trauma informed. The tool includes video interviews, issue briefs, key resources and links that will be updated monthly to keep up with new developments in the field.
---
Established by Congress in 2000, the National Child Traumatic Stress Network (NCTSN) brings a singular and comprehensive focus to childhood trauma. NCTSN's collaboration of frontline providers, researchers, and families is committed to raising the standard of care while increasing access to services. Combining knowledge of child development, expertise in the full range of child traumatic experiences, and dedication to evidence-based practices, the NCTSN changes the course of children's lives by changing the course of their care.
---
DBHDS has curated resources for coping with race-based trauma, tools to identify behavioral healthcare providers with expertise in Black mental health and other cultural competencies, ways to access free or low-cost support, mobile applications designed for Black People, Indigenous People, and People of Color, and other resources. To access the tool kit visit here.
---

Virginia HEALS is a model of service delivery that that has been developed to assist service providers in better linking systems of care and providing support and care to children, youth, and families impacted by trauma and/or victimization. For more information click here http://virginiaheals.com/
---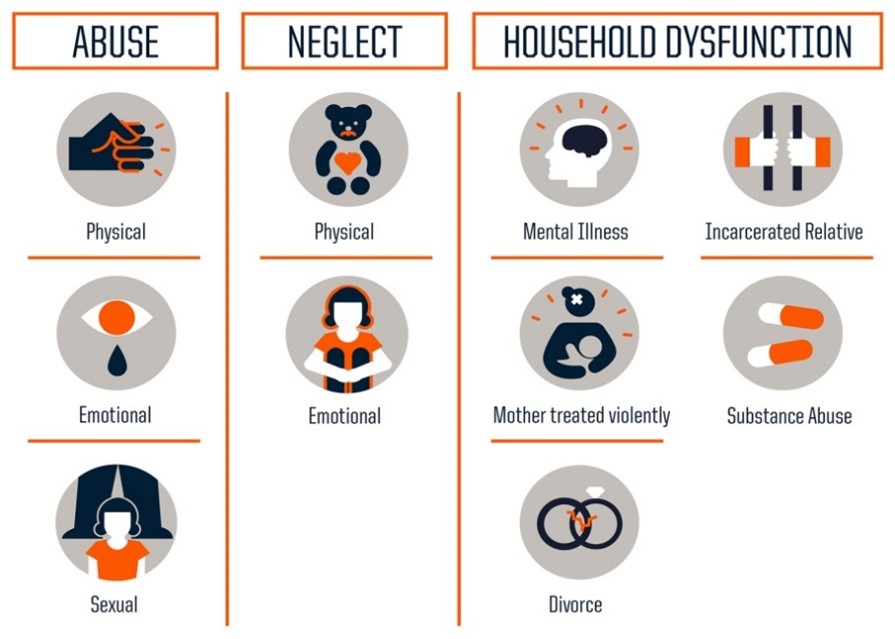 Adverse childhood experiences (ACEs) are stressful or traumatic events, including abuse and neglect. They may also include household dysfunction such as witnessing domestic violence or growing up with family members who have substance use disorders. ACEs are strongly related to the development and prevalence of a wide range of health problems throughout a person's lifespan, including those associated with substance misuse.
ACEs include:
Physical abuse
Sexual abuse
Emotional abuse
Physical neglect
Emotional neglect
Intimate partner violence
Mother treated violently
Substance misuse within household
Household mental illness
Parental separation or divorce
Incarcerated household member