Select a Section for More Information
Certified Recovery Residences in Virginia
A recovery residence is a housing facility that provides alcohol-free and illicit-drug-free housing to individuals with substance abuse disorders and individuals with co-occurring mental illnesses and substance abuse disorders that does not include clinical treatment services.
Oxford House is a 47-year old model for democratically self-governing, financially self-supporting recovery residences for individuals with substance use disorders. They are gender-specific homes with no time limit on residency which allows for the development of long-term sobriety. They operate in compliance with the requirements of the Oxford House Charter and System of Operations found in the Oxford House Manual. Oxford Houses do not have resident staff managing the individual houses however the model includes training and oversight from the local network of houses and state association, along with technical assistance from Virginia outreach workers. The system encourages the development of leadership skills and self-efficacy and allows residents to learn or relearn values and responsible recovery behavior. Oxford House's uniquely peer-supportive model has a long record of requiring its houses to meet high-quality standards.
Download the List of Oxford Residences in VA (xlsx)
VARR presents a collaborative voice for recovery residences throughout our Commonwealth and works to ensure that everyone in recovery is able to access programs that offer high quality recovery residences.
VARR's mission is to set high levels of standards for quality recovery residences in Virginia and accredit residences that meet such rigorous criteria in order to support persons in recovery with information and access to recovery residences bound together by the core principles of standards, ethics, and unity.
VARR approved houses demonstrate adherence to a rigorous set of standards. Compliance is affirmed through submission of extensive documentation, annual onsite inspections, participation in sponsored training, and events and responsiveness to all reported concerns and/or grievances. ​VARR approved houses demonstrate adherence to a rigorous set of standards that is produced at the National level through NARR. National Standards can be reviewed at NARRonline.org.
Level Two Houses – Monitored
Also offer involvement in self-help services and peer run groups
Could possibly be apartments or other dwelling types
Have at least one compensated person
Level Three Houses – Supervised
Also offer in-house service hours and life skills development emphasis
Vary in housing type and residential setting
Have a facility manager and certified staff or case managers
Level Four Houses – Service Provider
Also offer in-house clinical services and programming
Are various in type and may be a more institutional environment
Have a credentialed staff
Download the List of VARR Recovery Residences in VA (xlsx)
The Lists of Recovery Certified Residences are maintained by the Department of Behavioral Health and Developmental Services (DBHDS)
The Code of Virginia § 37.2-431.1 provides that no person shall advertise, represent, or otherwise imply to the public that a recovery residence or other housing facility is a certified recovery residence unless it has been certified by the Virginia Department of Behavioral Health and Developmental Services ("DBHDS"). In accordance with the DBHDS regulation, Certified Recovery Residences [12VAC35-260], each location that an entity seeks to operate as a certified recovery residence must be accredited by or hold a charter from an accrediting entity and be credentialed by and included on the certification list maintained by DBHDS. The two accrediting entities are:
Oxford Houses of Virginia
Virginia Association of Recovery Residences (VARR)
DBHDS LIST OF CERTIFIED RECOVERY RESIDENCES:
For a map of regions, see the link below under RESOURCES.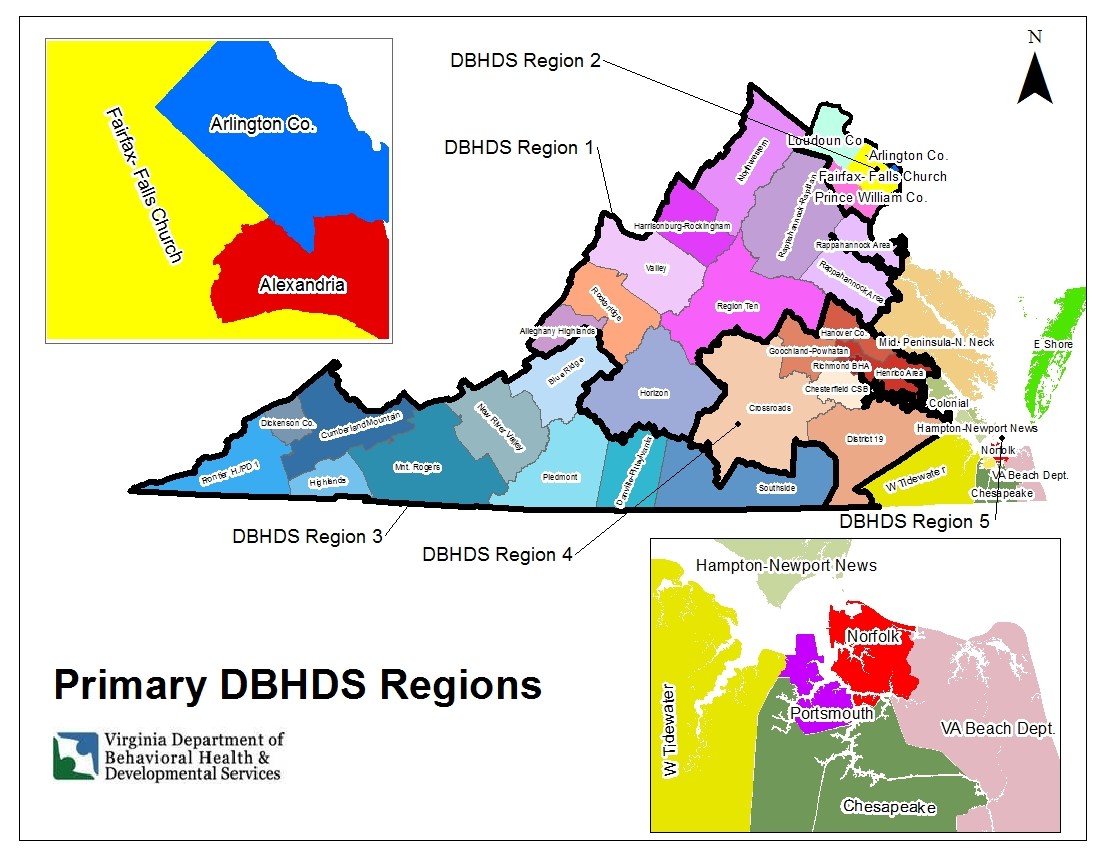 HOW TO BE ADDED TO THE LIST OF CERTIFIED RECOVERY RESIDENCES: To be included on the DBHDS list of certified recovery residences, an application must be submitted. A Statement of Certification is issued once an application has been reviewed for compliance with the Certified Recovery Residences regulations and verified by DBHDS. Before submitting the application, applicants must read and understand the Code of Virginia § 37.2-431.1 and DBHDS Certified Recovery Residences regulations [12 VAC35-260], concerning requirements for recovery residences. DBHDS will monitor certified recovery residences' continued compliance with the requirement to maintain their accreditation, certification, charter, or membership.
RESOURCES

Guidance Document for Virginia Certified Recovery Residences